3M™ Lead Foil Tape 420 Dark Silver, 1-1/4 in x 36 yd 6.8 mil, 36 rolls per case Bulk
3M ID

70006389046
UPC#

00051138954871
3M Product Number

420
Our 3M™ Lead Foil Tape 420 is an electrically and thermally conductive tape. This highly conformable tape resists flame, moisture, weather, UV degradation, chemicals and radiation. Mated with an easy-release film liner, our malleable tape can be shaped into complex or detailed patterns or die-cut into specific shapes to meet assembly and manufacturing process needs.

Conformable tape resists flame, moisture, weather, UV degradation, and many chemicals used in electroplating and anodizing processes
The rubber-based adhesive bonds well a variety of surface, including most metals
Performs over a wide variety of temperatures
Liner allows tape to be die-cut into specific shapes for assembly and manufacturing processes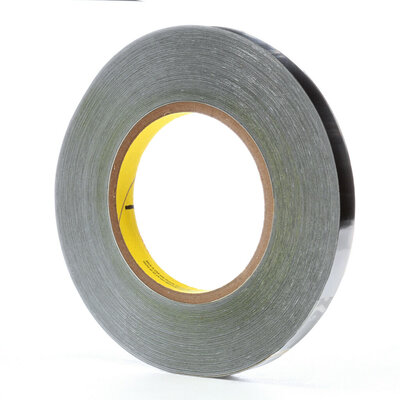 Pliable and Conductive Lead Tape
3M™ Lead Foil Tape 420
(PDF, 78.14 Kb) is a dark gray, lead foil backed tape coated with a distinct green rubber adhesive that offers good initial grab and a long-lasting bond that removes cleanly for most surfaces. It is an extremely conformable and pliable tape that can be formed into detailed and intricate shapes and patterns. The lead foil backing can be burnished to fully cover the adhesive and allow full contact of the lead foil to the metal base. This metal to metal contact results in a continuation of the electrical path, reducing build-up at the adhesive interface.
This lead foil tape is formulated to be electrically and thermally conductive and carries a strong acid and base resistance, making it ideal for electroplating or as a radiation barrier. Due to the density, weight and malleability of the lead foil, this tape makes an excellent choice for weighting and balancing, particularly for golf clubs where weight and conformability are crucial for balance and club performance.
Application Ideas
Masking applications in electroplating
Radiation barrier
Moisture barrier
Chemical milling
Add weight and balance to equipment parts, golf clubs, tennis rackets, etc.
Attributes
| | |
| --- | --- |
| Adhesion Strength‎ | ‎ 45 oz/in |
| Adhesion Strength (metric)‎ | ‎ 49 N/100mm |
| Adhesive Type‎ | ‎ Rubber |
| Backing Material‎ | ‎ Lead foil |
| Backing Thickness‎ | ‎ 4.7 mil |
| Backing Thickness (metric)‎ | ‎ 0.12 mm |
| Back-Side Adhesive Thickness (metric)‎ | ‎ 0.12 mm |
| Brand‎ | ‎ 3M |
| Color‎ | ‎ Dark Silver |
| Consumer Label‎ | ‎ No |
| Elongation‎ | ‎ 12 Percent |
| Industries‎ | ‎ Transportation,‎ Specialty Vehicle,‎ Metalworking,‎ Construction,‎ Automotive,‎ Military & Government,‎ General Industrial,‎ Appliance,‎ Electronics,‎ Aerospace |
| Length‎ | ‎ 36 Linear Yard |
| Length (Metric)‎ | ‎ 32.91 m |
| Maximum Operating Temperature (Celsius)‎ | ‎ 107 Degree Celsius |
| Maximum Operating Temperature (Fahrenheit)‎ | ‎ 225 Degree Fahrenheit |
| Minimum Operating Temperature (Fahrenheit)‎ | ‎ -60 Degree Fahrenheit |
| Primary Liner‎ | ‎ Easy Release Film |
| Product Form‎ | ‎ Roll |
| Shelf Life in Months (from date of manufacture)‎ | ‎ 18 |
| Tape Thickness‎ | ‎ 6.8 Milli-inch (mil) |
| Tensile Strength‎ | ‎ 20 lb/in |
| Tensile Strength (metric)‎ | ‎ 350 N/100mm |
| Thickness‎ | ‎ 6.8 mil |
| Thickness (Metric)‎ | ‎ 0.17 mm |
| Width‎ | ‎ 1.25 Inch |
| Width (Metric)‎ | ‎ 31.75 mm |