3M™ High Temperature Paint Masking Film 7300 Translucent, 9 in x 1500 ft 3.4 mil, 4 per case Boxed
3M ID

70006158730
UPC#

00021200228346
3M Product Number

7300
3M™ High Temperature Paint Masking Film 7300 is designed to protect in paint applications involving temps above 310°F or where bleed-through of solvents and paints may occur. This film is designed for soft flexing, provide good drape and conformability. It is excellent for two-tone, blackout and repair painting to match OEM finishes. An apron-taper best helps to dispense the film.

Performs reliably in temperatures as high as 310°F
Soft flexing design provides scratch-resistant draping and conformability
Single-wound on rolls of definitive width
Eliminates flying fiber contamination that can occur with fibrous paper products
Adhesive-free design helps create sharp paint lines
Typical use includes a dispensing tool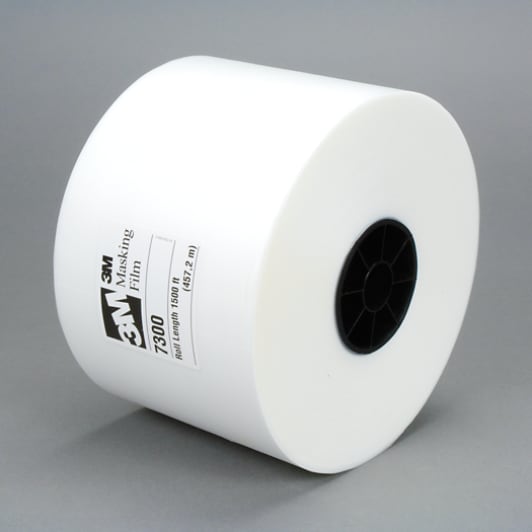 3M™ High Temperature Paint Masking Film 7300 is ideal for two-tone, blackout and repair painting to match OEM finishes
Higher Efficiency in Paint Masking
3M™ High Temperature Paint Masking Film 7300 is a high performance, high temperature masking film that is superior to standard masking paper in its conformability, as well as its prevention bleed-through and fiber contamination. It is often used in power wash processes. It is designed to resist temperatures as high as 310°F/155°C for 1 hour, making it suitable for effective paint masking during paint booth cycles. Its soft flexing design makes it easy for wrapping contoured and curved surfaces, with good draping qualities for sufficient coverage. It is soft enough to resist scratching of clear coat and other protective layers. Its surface is engineered to resist bleed-through of solvents, enamels, lacquers and paint.
Recommended Applications
Automotive paint repair
Two-tone paint masking for automobiles, trucks, buses and boats
Automotive fascia paint masking
Clean Masking System
3M™ High Temperature Paint Masking Film 7300 is compatible with automotive paints and resists paint flaking. This masking film is ideal where contamination free painting is required, and is excellent for two-tone and blackout applications. It readily accepts 3M masking tapes, and both tape and film can be smoothly dispensed together using a 3M apron taper.
Attributes
| | |
| --- | --- |
| Adhesion Strength‎ | ‎ 8.8 oz/in |
| Adhesion Strength (metric)‎ | ‎ 154 N/100mm |
| Applications‎ | ‎ Protect From Paint Overspray |
| Backing Material‎ | ‎ Polypropylene |
| Brand‎ | ‎ 3M |
| Color‎ | ‎ Translucent |
| Consumer Label‎ | ‎ No |
| Elongation‎ | ‎ 600 Percent |
| Industries‎ | ‎ Transportation,‎ Specialty Vehicle,‎ Metalworking,‎ Automotive,‎ Furniture,‎ Military & Government,‎ General Industrial,‎ Electronics,‎ Woodworking |
| Length‎ | ‎ 1500 Linear Foot |
| Length (Metric)‎ | ‎ 457.2 m |
| Maximum Operating Temperature (Celsius)‎ | ‎ 155 Degree Celsius |
| Maximum Operating Temperature (Fahrenheit)‎ | ‎ 310 Degree Fahrenheit |
| Product Form‎ | ‎ Roll |
| Shelf Life in Months (from date of manufacture)‎ | ‎ 12 |
| Tensile Strength‎ | ‎ 7.4 lb/in |
| Tensile Strength (metric)‎ | ‎ 130 N/100mm |
| Thickness‎ | ‎ 3.4 mil |
| Thickness (Metric)‎ | ‎ 0.086 mm |
| Width‎ | ‎ 9 Inch |
| Width (Metric)‎ | ‎ 228.6 mm |