3M™ Hang Tab 1076 Clear, 2 in x 2 in, 10 hang tabs per pad, 50 pads per pack 5 packs per case Conveniently Packaged
3M ID

70006788411
UPC#

00051125749510
3M Product Number

1076
3M™ Hang Tab 1076 is a great solution for hanging product in retail locations and for in-store repair of damaged packaging. Featuring a clear polyester backing, 3M™ Hang Tab 1076 is abrasion, split and edge tear resistant while allowing important packaging copy and graphics to show through. It includes a round-hole configuration to work with single pegs.

2" x 2", round style hole for hanging product in retail locations
Pressure sensitive, synthetic rubber adhesives sticks instantly to shrink-wrapped packages, cartons and product surfaces for easy application
Edge tear and split resistant backing holds up over time
Clear tape allows package copy, brand messaging and graphics to show through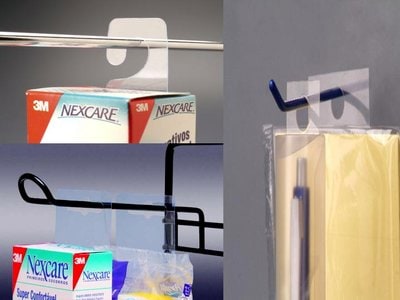 3M™ Hang Tabs are designed to stick to a product surface and to then hang that product from a peg for display
Display with Confidence
3M™ Hang Tab 1076 tabs
(PDF, 20.71 Kb) feature a biaxially oriented polyester film backing with pressure-sensitive, synthetic, rubber resin adhesive that sticks well to most products and packaging surfaces for display applications. They are laminated to a polyester top and backing, and are abrasion, split and edge tear resistant. Hang Tab 1076 features a round hold for single-wire peg applications.
Recommended Applications
eneral display applications
ang Shrink wrapped packaging without inherent hanging devices
epairing of damaged hanging packaging
e-locating product to maximize store shelf space
rovide easy visibility by relocating previously unnoticed products
rovide versatility in sales displays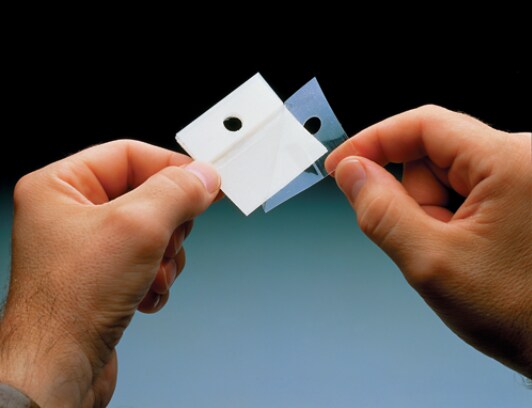 Pre-cut, bendable tab format offers convenience and ease of use
Pre-cut Performance
These pre-cut tabs are pre-stacked 10 high in convenient pads for easy manual application and portability. They are handy for hanging shrink-wrapped packages as well as for in-store repair of damaged packaging. Because the whole tab is not rigid, the can be applied before case packing a product and will stay folded down until it is unpacked and hung up.
Attributes
| | |
| --- | --- |
| Adhesion Strength‎ | ‎ 55 oz/in |
| Adhesion Strength (metric)‎ | ‎ 60 N/100mm |
| Adhesive Type‎ | ‎ Synthetic Rubber Resin |
| Applications‎ | ‎ Packaging Repair |
| Backing Material‎ | ‎ Polyester |
| Backing Thickness‎ | ‎ 2 mil |
| Backing Thickness (metric)‎ | ‎ 0.05 mm |
| Back-Side Adhesive Thickness (metric)‎ | ‎ 0.05 mm |
| Brand‎ | ‎ 3M |
| Color‎ | ‎ Clear |
| Consumer Label‎ | ‎ No |
| Elongation‎ | ‎ 130 Percent |
| Industries‎ | ‎ Paper,‎ Food and Beverage,‎ General Industrial,‎ Retail,‎ Consumer Goods |
| Length‎ | ‎ 2 Inch |
| Length (Metric)‎ | ‎ 0.05 m |
| Performance Level‎ | ‎ General Use |
| Product Form‎ | ‎ Pad |
| Tape Thickness‎ | ‎ 13.5 Milli-inch (mil) |
| Tensile Strength‎ | ‎ 45 lb/in |
| Tensile Strength (metric)‎ | ‎ 788 N/100mm |
| Thickness‎ | ‎ 3.5 mil |
| Thickness (Metric)‎ | ‎ 0.089 mm |
| Width‎ | ‎ 2 Inch |
| Width (Metric)‎ | ‎ 50.8 mm |