3M™ General Purpose Glass Cloth Tape 3615 White, 3/4 in x 36 yd 7.0 mil, 48 per case Bulk
3M ID

70006282183
UPC#

00021200482342
3M Product Number

3615
Constructed with a woven fiberglass backing, 3M™ General Purpose Glass Cloth Tape 3615 features a pressure sensitive silicone adhesive for applications requiring high-temperature resistance and high adhesion. It is often used for high temperature applications requiring high tensile strength and good holding power.

Strong abrasion resistant backing provides strength for bundling, harnessing and protection applications requiring high tensile strength
Silicone adhesive provides long aging, good holding power and clean removal across a wide range of temperatures
Thicker version of 3M™ Glass Cloth Tape 361
Withstands temperatures ranging from -65°F/-54°C to 450°F/232°C and intermittent temperatures up to 550°F/288°C or higher, depending on the type and duration of the heat source
Used for permanent sealing of high temperature ducts or chambers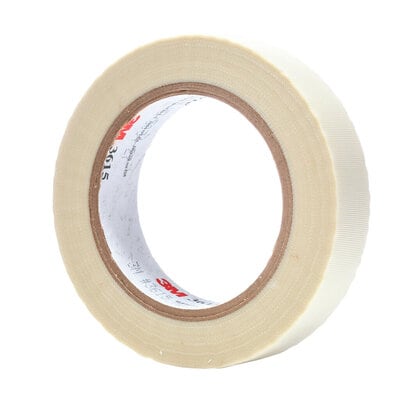 High Temperature Performance
Used in a variety of industries,
3M™ General Purpose Glass Cloth Tape 3615
(PDF, 46 Kb) is a strong and durable, fiberglass backed tape designed to perform at high temperatures. This tape is used in a variety of industries in high temperature applications requiring high tensile strength and good holding power. It is able to withstand temperatures ranging from -65°F/-54°C to 450°F/232°C, and intermittent temperatures up to 550°F/288°C or higher, depending on the type and duration of the heat source.
Recommended Applications
Permanent sealing of high temperature ducts or chambers
Back-up strip for submerged arc welding
Bundling, holding and wire harnessing
Attributes
| | |
| --- | --- |
| Adhesion Strength‎ | ‎ 35 oz/in |
| Adhesion Strength (metric)‎ | ‎ 38 N/100mm |
| Adhesive Type‎ | ‎ Silicone |
| Backing Material‎ | ‎ Glass cloth |
| Backing Thickness‎ | ‎ 5 mil |
| Backing Thickness (metric)‎ | ‎ 0.13 mm |
| Back-Side Adhesive Thickness (metric)‎ | ‎ 0.13 mm |
| Brand‎ | ‎ 3M |
| Color‎ | ‎ White |
| Consumer Label‎ | ‎ No |
| Elongation‎ | ‎ 7 Percent |
| Industries‎ | ‎ Transportation,‎ Specialty Vehicle,‎ Construction,‎ Automotive,‎ Military & Government,‎ General Industrial,‎ Aerospace |
| Length‎ | ‎ 36 Linear Yard |
| Length (Metric)‎ | ‎ 32.91 m |
| Maximum Operating Temperature (Celsius)‎ | ‎ 232 Degree Celsius |
| Maximum Operating Temperature (Fahrenheit)‎ | ‎ 450 Degree Fahrenheit |
| Minimum Operating Temperature (Fahrenheit)‎ | ‎ -65 Degree Fahrenheit |
| Product Form‎ | ‎ Roll |
| Shelf Life in Months (from date of manufacture)‎ | ‎ 24 |
| Tape Thickness‎ | ‎ 7 Milli-inch (mil) |
| Tensile Strength‎ | ‎ 180 lb/in |
| Tensile Strength (metric)‎ | ‎ 3140 N/100mm |
| Thickness‎ | ‎ 7 mil |
| Thickness (Metric)‎ | ‎ 0.18 mm |
| Width‎ | ‎ 0.75 Inch |
| Width (Metric)‎ | ‎ 19.05 mm |