3M™ Fastener SJ3530 Hook S001 White, 4 in x 50 yd 0.15 in Engaged Thickness, 1 per case Bulk
3M ID

70006427218
UPC#

00051115250330
3M Product Number

SJ3530
3M™ Hook Fastener SJ3530, commonly paired with 3M™ Loop Fastener SJ3531, is one part of a durable, two-part fastener solution. This pressure-sensitive nylon fastener is capable of thousands of closures. Designed with a rubber-based pressure sensitive adhesive, this fastener is easy to apply and provides excellent adhesion to low surface energy substrates.

Durable woven nylon design can withstand thousands of closures
Rubber-based adhesive offers excellent adhesion to low surface energy substrates
Pressure sensitive adhesive provides easy and convenient application
Easy-to-use fastener for flexibility and fast product assembly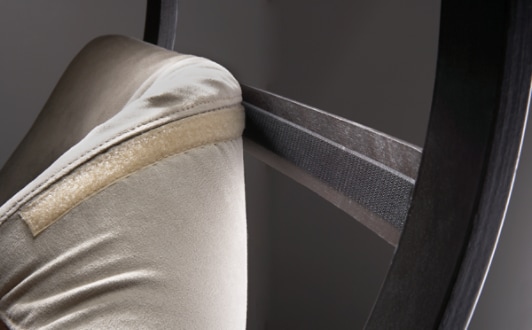 Bonds well to a variety of plastics, paint, bare and powder coated metal, glass, sealed wood, fabrics and cardboard
Recommended Applications
Many industries can leverage the benefits of 3M™ Hook Fastener SJ3530 and use this product in a wide variety of applications, including:
Securing Fabric to Furniture Cushions
Carpet Panel Attachments
Signage
Display and Graphics
Point of Purchase
What to Know: 3M™ Hook and Loop Fasteners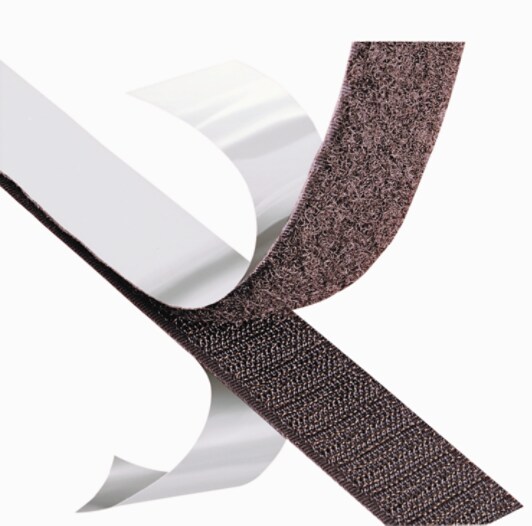 Pressure sensitive adhesive-backed versions bond on contact
3M™ Hook and Loop Fasteners offer advanced closure alternatives to zippers, screws, snaps, hooks, bolts, and more. Our Hook and Loop Fasteners provide smooth and clean exterior surfaces and excellent product performance in many applications. 3M™ Hook and Loop Fasteners consist of hooks and loops which engage to form a quick fastening attachment. To disengage the attachment of the hook and loop, simply pull the strips apart by hand.
The woven hook is covered with about 300 tiny, stiff hooks per square inch. The woven loop is covered with thousands of soft, pliable napped loops, providing thousands of openings and closings (cycles). The hook and loop are preshrunk to ensure maximum dimensional stability and flatness.
The use of pressure sensitive adhesives eliminates or reduces the need for sewing, solvent activation, dielectric or ultrasonic bonding or bulk adhesive bonding. Eliminating these additional application procedures creates simplicity, improved safety and lower installation costs. Pressure sensitive adhesive products can be applied manually or automatically using a variety of equipment choices.
Provides Strong Attachments, Again and Again
Ready to meet the product demands that require thousands of openings and closings, 3M™ Hook Fastener SJ3530 is a strong and tough solution. Achieve success for a variety of applications with a product backed with the expertise of 3M adhesive technology and reach the desired results with a tried-and-true solution.
Attributes
| | |
| --- | --- |
| Adhesive Type‎ | ‎ General Performance Rubber Adhesive |
| Brand‎ | ‎ 3M |
| Closure Life‎ | ‎ 5000 |
| Color‎ | ‎ White |
| Consumer Label‎ | ‎ No |
| Engaged Thickness‎ | ‎ 0.15 Inch |
| Flame Retardant‎ | ‎ No |
| Industries‎ | ‎ Transportation,‎ Specialty Vehicle,‎ Construction,‎ Furniture,‎ Medical,‎ Military & Government,‎ General Industrial,‎ Electronics |
| Length‎ | ‎ 50 Linear Yard |
| Length (Metric)‎ | ‎ 45.72 m |
| Low Profile‎ | ‎ No |
| Material‎ | ‎ Nylon |
| Maximum Operating Temperature (Celsius)‎ | ‎ 32 Degree Celsius |
| Maximum Operating Temperature (Fahrenheit)‎ | ‎ 90 Degree Fahrenheit |
| Primary Liner‎ | ‎ White Polyethylene Film |
| Product Form‎ | ‎ Roll |
| Width‎ | ‎ 4 Inch |
| Width (Metric)‎ | ‎ 101.6 mm |