3M™ Fastener SJ3418FR Loop Flame Resistant S024 Silver, 2 in x 50 yd 0.15 in Engaged Thickness, 6 rolls per case Bulk
3M ID

70070970127
UPC#

00021200564031
3M Product Number

SJ3418FR
3M™ Flame Resistant Loop Fastener SJ3418FR is one part of a two-part fastener solution designed to provide great durability for thousands of closures.

Provides durability for thousands of closures through woven nylon design
Plain backed for sew on applications
Great design flexibility and fast product assembly
Woven nylon backing is temperature resistant to 200ºF (93ºC)
Fastener can be opened and closed up to 5,000 times before losing 50% of the original strength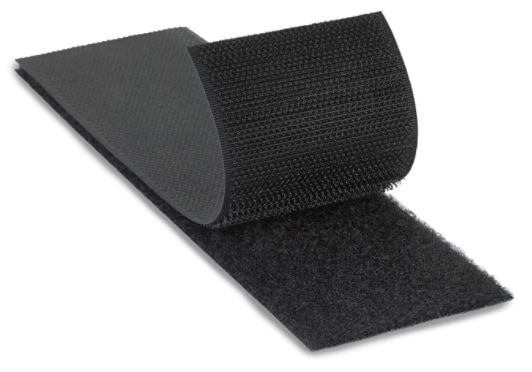 Hooks on One Side, Loops on the Other for Secure, Repeated Closures
Secure Alternative to Zippers, Screws, Snaps and More
3M™ Flame Resistant Loop Fastener SJ3418FR offers a replacement to a wide variety of closure alternatives, including zippers, screws, snaps, hooks and bolts. The loop backing is covered with thousands of soft, pliable loops, providing thousands of openings and closings (cycles). It is temperature resistant to 200°F (93°C).
Recommended Applications
Securing fabric to furniture cushions
Attaching carpet panels
Airplane seating
Uniforms, gloves and clothing
Lasts Through Repeated Openings and Closings
3M™ Hook and Loop Fasteners offer great design flexibility, fast product assembly, smooth and clean exterior surfaces and excellent product performance in many applications. 3M fasteners consist of hooks and loops which engage to form a quick fastening attachment. To disengage the attachment of the hook and loop, simply pull the strips apart by hand. These remarkable fasteners can be opened and closed over and over, up to 5,000 times before losing 50% of the original strength, for repeated access and repositioning.
Our hook and loop fasteners provide the strong, tough bonding solutions you need. Simply press together and the tiny, stiff hooks mesh with pliable loops will provide you with a quick, secure fastening. With our hook and loop fasteners, you can easily reach the necessary results to meet product demands that require thousands of easy opening and closings.
Bringing Better Ideas to the Surface through Science and Innovation
In our 3M Industrial Adhesives and Tapes Division, we apply the science of adhesion to deliver innovative solutions that improve the design and manufacturing processes of companies around the world. In the end, our technologies help customers like you deliver competitive products to the market faster and more efficiently.
Attributes
| | |
| --- | --- |
| Adhesive Type‎ | ‎ Non Adhesive |
| Brand‎ | ‎ 3M |
| Closure Life‎ | ‎ 5000 |
| Color‎ | ‎ Silver |
| Consumer Label‎ | ‎ No |
| Engaged Thickness‎ | ‎ 0.15 Inch |
| Flame Retardant‎ | ‎ Yes |
| Industries‎ | ‎ Transportation,‎ Specialty Vehicle,‎ Construction,‎ Furniture,‎ Medical,‎ Military & Government,‎ General Industrial,‎ Electronics |
| Length‎ | ‎ 50 Linear Yard |
| Length (Metric)‎ | ‎ 45.72 m |
| Low Profile‎ | ‎ No |
| Material‎ | ‎ Nylon |
| Maximum Operating Temperature (Celsius)‎ | ‎ 104 Degree Celsius |
| Maximum Operating Temperature (Fahrenheit)‎ | ‎ 220 Degree Fahrenheit |
| Primary Liner‎ | ‎ Polyethylene Film |
| Product Form‎ | ‎ Roll |
| Width‎ | ‎ 2 Inch |
| Width (Metric)‎ | ‎ 50.8 mm |