3M™ Carry Handle Tape 8347 Clear, 1 in x 5470 yd, 1 per case Boxed
3M ID

70070566396
UPC#

00021200892813
3M Product Number

8347
Designed for smooth, efficient use with automated carry handle application equipment, 3M™ Carry Handle Tape 8347 is a high-performance tape featuring a durable polypropylene film backing and an aggressive synthetic rubber adhesive especially suited for high shear performance carrying handles for items up to 20 lbs.

Long, level-wound rolls are designed for smooth, efficient use with automatic carry handle application equipment
Combined with a custom printed insert creates a convenient handle for carrying and transporting bundled items up to 20 pounds
Unique adhesive construction with polypropylene backing allows you to create handle on automatic equipment
Helps transform bulky purchases into travel-friendly packages
Bundle like-products together for club store SKUs

 
It's fast and easy to make almost anything transportable with 3M™ Carry Handles
Incredibly Convenient and Simple to Apply
3M™ Carry Handle Tape 8347 combined with a custom printed insert creates a convenient handle for carrying and transporting bulky and heavy packages. The synthetic rubber adhesive provides excellent adhesion to most shrink film overwrap packaging immediately with no dwell time necessary. Tape is level-wound on a 6" core for fewer roll changes on application equipment, increasing production rate.
Recommended Applications
Machine applying carry handles to bulk products such as bundled food and beverage packages
Small appliances, small electronics, lawn, garden, houseware and hardware items for consumer convenience and branding opportunity
Bundling like-products together for club store SKUs
Completely Customizable
The combination of 3M™ Carry Handle Tape 8347 and custom printed paper insert makes for easy bundling of products, convenient carrying of bulky items and enhanced brand recognition. This carry handle works on a variety of surfaces, including printed and unprinted paperboard, corrugated cardboard, polyethylene and polypropylene (strong shrink film/poly bags), polyester film and polyvinyl chloride (PVC) film.
Bringing Better Ideas to the Surface through Science and Innovation
In our 3M Industrial Adhesives and Tapes Division, we apply the science of adhesion to deliver innovative solutions that improve the design and manufacturing processes of companies around the world. In the end, our technologies help customers like you deliver competitive products to the market faster and more efficiently.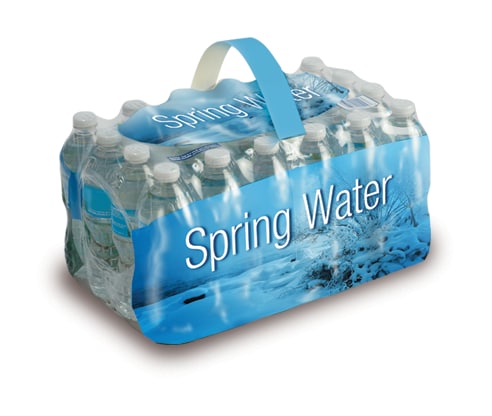 3M™ Carry Handles work on a variety of surfaces
Attributes
| | |
| --- | --- |
| Adhesion Strength‎ | ‎ 22 oz/in |
| Adhesion Strength (metric)‎ | ‎ 24.5 N/100mm |
| Adhesive Type‎ | ‎ Pressure Sensitive Rubber Resin |
| Application Method‎ | ‎ Pre-applied at Manufacturer |
| Applications‎ | ‎ Primary Packaging,‎ Branding |
| Backing Material‎ | ‎ Polypropylene |
| Brand‎ | ‎ 3M |
| Carrying Capacity‎ | ‎ 20 lb. |
| Color‎ | ‎ Clear |
| Consumer Label‎ | ‎ No |
| Elongation‎ | ‎ 40 Percent |
| Industries‎ | ‎ Paper,‎ Food and Beverage,‎ General Industrial |
| Length‎ | ‎ 5470 Linear Yard |
| Length (Metric)‎ | ‎ 5001.7 m |
| Pads per Case‎ | ‎ 1 |
| Product Form‎ | ‎ Roll |
| Tape Thickness‎ | ‎ 2.9 Milli-inch (mil) |
| Tensile Strength‎ | ‎ 108 lb/in |
| Tensile Strength (metric)‎ | ‎ 1900 N/100mm |
| Thickness‎ | ‎ 2.56 mil |
| Thickness (Metric)‎ | ‎ 0.065 mm |
| Width‎ | ‎ 1 Inch |
| Width (Metric)‎ | ‎ 25.4 mm |