3M™ Carry Handle 8310 White, 1 in x 17 in x 3 in, 25 handles per pad, 110 pads per case Bulk
3M ID

70006752193
UPC#

00051115713897
3M Product Number

8310
Our 3M™ Carry Handle 8310 lets you quickly transform large or awkward boxes or packages for easy carrying with one hand. This eliminates the need – and the cost – for additional packaging such as plastic or paper bags at retail. Available custom printing lets you promote your brand. Each Carry Handle supports up to 10 lbs. Handles come in pads for fast application.

Quickly and easily transform bulky purchases into travel-friendly packages
Adhesive construction adheres to a wide variety of package surfaces
Adhesive delivers shear strength for carrying capacities up to 10 lbs. (4.5 kg)
Handles are stocked in convenient portable pads – no dispenser required for easy storage and use
Fully customizable and printable to put your brand in your customers' hands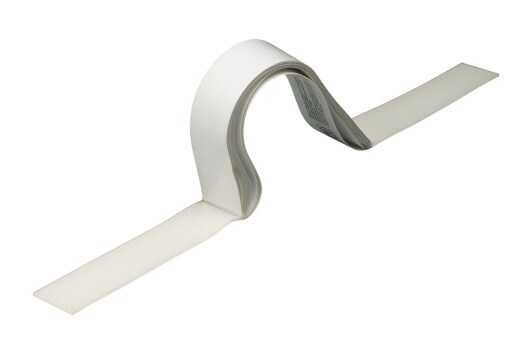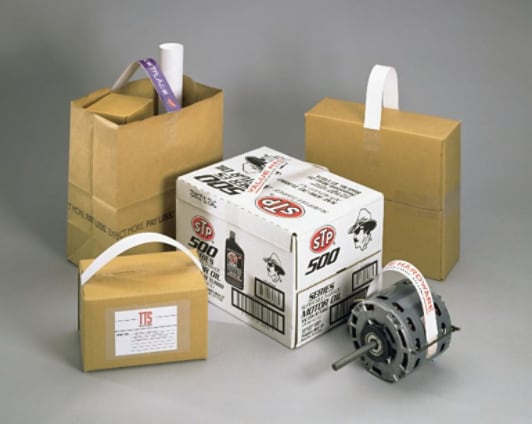 More Convenient Carrying and Branding at Retail
Built to save time and money all the way through from manufacturing to the end customer, our 3M™ Carry Handle 8310 attaches at each end to large or oddly-shaped boxes and packages and creates a loop, forming a durable carry handle. Carry handles are packaged in convenient pads and do not require a dispenser, making it easy for users to quickly pull and apply them during manufacturing and at retail. The handles also make a cost-effective replacement for additional paper or plastic bags. Custom printing lets you use the carry handle to promote your brand or promotional messages.
The Strength to Handle a Range of Surfaces
Each 3M™ Carry Handle 8310 features a strong, fast-adhering rubber resin adhesive at the ends. Users simply pull a strip off of the pad and stick the ends to each side of the package to form a loop that becomes a quick and cost-saving carry handle. It delivers excellent adhesion to most shrink film overwrap packaging and to a range of surfaces including paperboard, corrugated cardboard and polyester or PVC film. It is excellent for food and beverage, bulk paper products, general industrial, in-store retail, commercial, home and garden and more. This adhesive is formulated for excellent shear strength to suit a recommended carrying capacity of up to 10 lbs (4.5 kg).
Recommended Applications
Handling products such as small appliances, small electronics, toys, lawn, garden, houseware and hardware items
Bundling products at store shelves for consumer convenience and added branding
Delivering promotional messages or UPC codes
Combining products such as shrink wrapped multipacks
Suitable for surfaces including:

Printed and unprinted paperboard
Corrugated cardboard
Polyethylene and polypropylene (strong shrink film/poly bags)
Polyester film
Polyvinyl chloride (PVC) film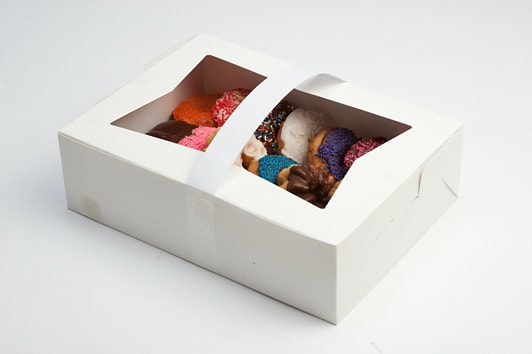 The Science of Adhesive Solutions from 3M
Since 1925 when one of our lab assistants invented masking tape, 3M has been applying science to life —developing adhesive products and technologies that help entire industries and individual businesses worldwide. The work that began with a single 3M engineer now spans decades and generations. And all of it goes into each of our adhesive solutions like 3M™ Carry Handle Tape 8310 — to help businesses like yours operate faster, better and more efficiently.
Attributes
| | |
| --- | --- |
| Adhesion Strength‎ | ‎ 55 oz/in |
| Adhesion Strength (metric)‎ | ‎ 60 N/100mm |
| Adhesive Type‎ | ‎ Synthetic Rubber |
| Application Method‎ | ‎ Pre-applied at Manufacturer,‎ Applied at Retail Check-out |
| Backing Material‎ | ‎ Polypropylene |
| Brand‎ | ‎ 3M |
| Carrying Capacity‎ | ‎ 10 lb. |
| Color‎ | ‎ White |
| Consumer Label‎ | ‎ No |
| Elongation‎ | ‎ 160 Percent |
| Handles Per Case‎ | ‎ 2750 |
| Handles Per Pad‎ | ‎ 25 |
| Industries‎ | ‎ Paper,‎ Food and Beverage,‎ General Industrial,‎ Retail,‎ Consumer Goods |
| Length‎ | ‎ 17 Inch |
| Length (Metric)‎ | ‎ 0.43 m |
| Length of Adhesive Tape Leg‎ | ‎ 3 Inch |
| Pads per Case‎ | ‎ 110 |
| Product Form‎ | ‎ Case |
| Size‎ | ‎ 1 in x 17 in x 3 in |
| Tape Thickness‎ | ‎ 6.95 Milli-inch (mil) |
| Tensile Strength‎ | ‎ 35 lb/in |
| Tensile Strength (metric)‎ | ‎ 615 N/100mm |
| Thickness‎ | ‎ 3.1 mil |
| Thickness (Metric)‎ | ‎ 0.079 mm |
| Width‎ | ‎ 1 Inch |
| Width (Metric)‎ | ‎ 25.4 mm |