3M™ Adhesive Transfer Tape F9752PC case, 2 mil, Custom Sizes Available
3M ID

70000236995
3M Product Number

F9752PC
3M™ Adhesive Transfer Tape F9752PC features 3M™ High Performance Acrylic Adhesive 420 for great bond strength and performance in a broad range of temperatures joining materials to high and low surface energy plastics and metals. The 58# polycoated liner provides excellent handling and resistance to moisture.

Transparent, double sided, 2 mil (0.05 mm) transfer tape offers a thin profile combined with our high performance acrylic adhesive for a long-lasting bond
High tack adhesive can be applied at temperatures as low as 32°F/0°C and can perform in temperatures as high as 300°F/149°C
58# densified kraft paper liner is moisture stable and ideal for die-cutting applications
Adhesive bonds well to high surface energy (HSE) metals and medium surface energy (MSE) plastics
Excellent choice for applications where UV resistance is required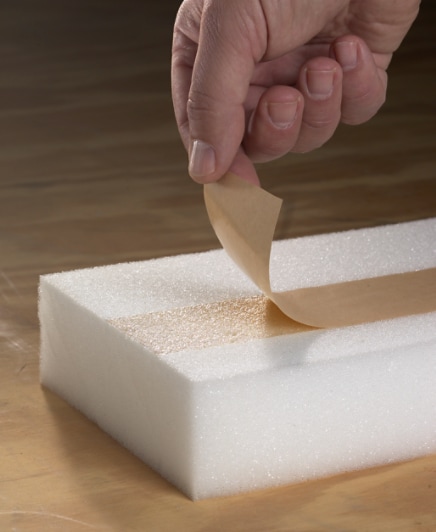 High bond strength and high temperature performance
High Temperature and UV Resistance
Producing high tack levels for immediate adhesion, this acrylic adhesive transfer tape offers excellent hold strength even at elevated temperatures. 3M™ Adhesive Transfer Tape F9752PC is a transparent, double sided, 2 mil (0.05 mm) transfer tape that can withstand temperatures up to 300°F/149°C for sustained periods, and short-term exposure to temperatures up to 450°F/232°C. Ultimate bond strength can be accelerated by exposure to elevated temperatures, such as 150°F/66°C for approximately one hour. Excellent where UV resistance is required. This tape also offers the ability to make adhesive bonds at temperatures as low as 32°F/0°C.
Recommended Applications
Cold temperature applications
Bonding metals
Medium surface energy plastics
Lens bonding
Features 3M™ Adhesive 420
Our 3M™ Adhesive Transfer Tape F9752PC is designed with 3M™ Adhesive 420, a medium firm acrylic adhesive provides good adhesion to metals and medium surface energy (MSE) plastics such as polycarbonate, ABS, acrylic and polyimide. It boasts good temperature resistance in tough application environments. This acrylic adhesive performs well after exposure to humidity and has a short term temperature resistance of 300° F. It also provides good performance at low temperatures and good shock resistance at impact.
What are Adhesive Transfer Tapes?
Adhesive transfer tapes are rolls of pressure sensitive adhesive pre-applied to a special release liner. For application, the tape is simply pressed, adhesive side down, to a surface and the liner is peeled off. A variety of adhesive properties and liners are available to meet requirements for applications such as nameplate attachment to high surface energy (HSE) metals and medium surface energy (MSE) plastics, appliance graphic overlays that perform in high temperatures, signs, posters, banners, and more.
Bringing Better Ideas to the Surface through Science and Innovation
In our
3M Industrial Adhesives and Tapes Division,
we apply the science of adhesion to deliver innovative solutions that improve the design and manufacturing processes of companies around the world. In the end, our technologies help customers like you deliver competitive products to the market faster and more efficiently.
View Adhesives and Tapes Design Guide.
(PDF, 20.14 Mb)
Attributes
| | |
| --- | --- |
| Adhesive Type‎ | ‎ Acrylic |
| Brand‎ | ‎ 3M |
| Color‎ | ‎ Clear |
| Consumer Label‎ | ‎ No |
| Face-Side Adhesive Thickness‎ | ‎ 2 mil |
| Face-Side Adhesive Thickness (metric)‎ | ‎ 0.05 mm |
| Face-Side Adhesive Type‎ | ‎ 3M™ Acrylic Adhesive 420 |
| Industries‎ | ‎ Converter Solutions,‎ Signage,‎ Electronics,‎ Print |
| Master Size Length‎ | ‎ 360 Linear Yard |
| Master Size Width‎ | ‎ 54 Inch |
| Maximum Operating Temperature (Fahrenheit)‎ | ‎ 300 Degree Fahrenheit |
| Minimum Operating Temperature (Fahrenheit)‎ | ‎ -40 Degree Fahrenheit |
| Primary Liner‎ | ‎ 58# Polycoated Kraft Paper (PCK) |
| Primary Liner Color‎ | ‎ Tan |
| Product Form‎ | ‎ Roll |
| Size‎ | ‎ Custom |
| Tape Thickness‎ | ‎ 2 Milli-inch (mil) |
| Thickness‎ | ‎ 2 mil |
| Thickness (Metric)‎ | ‎ 0.05 mm |