3M™ Adhesive Transfer Tape 9627 Clear, 5 mil, Custom Sizes Available
3M ID

70000216211
3M Product Number

9627
3M™ Adhesive Transfer Tape 9627 immediately bonds to high and low surface energy materials. The 60# glassine paper liner provides dimensional stability and improved handling with ease in die cutting and laminating applications.

Natural, 5 mil (0.13 mm) adhesive transfer tape on a 60# glassine paper liner
Quick stick adhesion and immediate bond
Exceptional adhesion properties and bonds well to high and low surface energy plastics
Good solvent and moisture resistance
Laminating adhesive format provides good conformability to irregular surfaces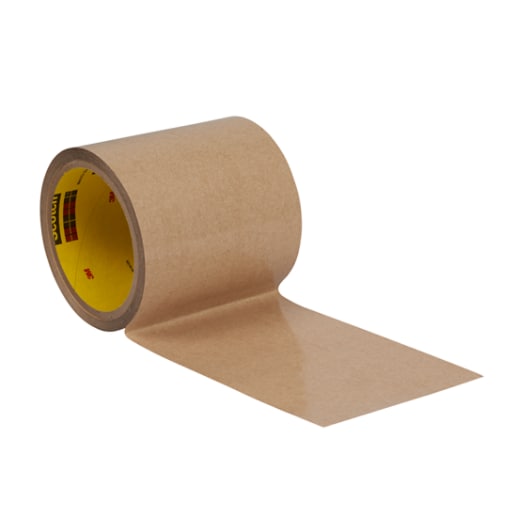 3M™ Adhesive Transfer Tape 9627 offers high bond strength on a variety of materials, including hard-to-stick-to polypropylene and powder-coated paints
Exceptional Strength from Thin Bond Lines
Engineered for quick and strong adhesion, 3M™ Adhesive Transfer Tape 9627 offers high bond strength on a variety of materials, including hard-to-stick-to polypropylene and powder-coated paints. Designed with just 5 mil (0.13 mm) of 3M™ Quick Bonding Adhesive 360, it provides exceptional strength with minimal adhesive, delivering a strong, yet light and smooth application and thin bond lines. The tape is resistant to humidity, UV, water, short term temperatures up to 250°F (121°C) and chemicals (including oil, mild acids, and alkalis).
Recommended Applications
Plastic housing and component assembly (bezel bonding)
Interior decorative trim attachment
The 360 Advantage
3M™ Adhesive Transfer Tape 9627 features 3M™ Quick Bonding Adhesive 360 which provides high bond strength with low odor. The noted advantages of 360 adhesive are its extremely high peel adhesion and equally high adhesion on both polypropylene and steel substrates. It offers more bond strength with less adhesive as well as quick stick to many low surface energy substrates.
Understanding Adhesive Transfer Tapes
Adhesive transfer tapes
are rolls of pressure sensitive adhesive pre-applied to a special release liner. For application, the tape is simply pressed, adhesive side down, to a surface and the liner is peeled off. A variety of adhesive properties and liners are available to meet requirements for applications such as nameplate attachment to high and low surface energy plastics, appliance graphic overlays that perform in high temperatures, foam gasketing, web splicing, signs, posters, banners, point-of-purchase displays, and more.
Attributes
| | |
| --- | --- |
| Adhesive Type‎ | ‎ Acrylic |
| Brand‎ | ‎ 3M |
| Color‎ | ‎ Clear |
| Consumer Label‎ | ‎ No |
| Face-Side Adhesive Thickness‎ | ‎ 5 mil |
| Face-Side Adhesive Thickness (metric)‎ | ‎ 0.13 mm |
| Face-Side Adhesive Type‎ | ‎ 3M™ Quick Bonding Adhesive 360 |
| Industries‎ | ‎ Converter Solutions,‎ Transportation,‎ Specialty Vehicle,‎ Automotive,‎ Medical,‎ General Industrial,‎ Electronics,‎ Aerospace,‎ Woodworking |
| Master Size Length‎ | ‎ 180 Linear Yard |
| Master Size Width‎ | ‎ 54 Inch |
| Maximum Operating Temperature (Fahrenheit)‎ | ‎ 200 Degree Fahrenheit |
| Minimum Operating Temperature (Fahrenheit)‎ | ‎ -40 Degree Fahrenheit |
| Primary Liner‎ | ‎ 60# Glassine Paper |
| Primary Liner Color‎ | ‎ Tan |
| Product Form‎ | ‎ Roll |
| Size‎ | ‎ Custom |
| Tape Thickness‎ | ‎ 5 Milli-inch (mil) |
| Thickness‎ | ‎ 5 mil |
| Thickness (Metric)‎ | ‎ 0.13 mm |